| | | |
| --- | --- | --- |
| | Call us Now! (323) 570-0004 | |
OFFICE ADDRESS
A-1 Steel Fence Co.
2210 Chico Ave.
South El Monte, Ca. 91733
(562) 693-4853
info@a1steelfence.com
Wrought Iron Fences & Gates Los Angeles, CA
For many years wrought iron fences were thought to be only for large, stately homes. This exquisite fence was know as "ornamental iron". Today, wrought iron and ornamental iron are used as interchangeable terms.  This iron is stunning and may be built to custom specifications. For most people however, it's often more economical to dress up your fence.  This can be done with stock panels and decorative accessories.  The accessories for wrought iron fence include scrolls, casting, circles, pickets, arched tops and more.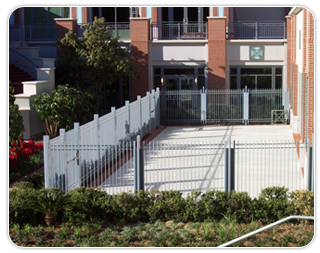 Panels are available with pickets 4 ½ or 6" on center. The rails and posts will vary depending on the height of your fence as well as your landscaping. For years, those who had had hilly terrain were required to have their wrought iron fence custom built. Today, you can have rackable panels that are pinched on the top and bottom. This allows for your wrought iron fence to be customized to almost any terrain.  Not only does this allow you the beauty of wrought iron fences but it also helps keep the cost of installation down.

There are hundreds of variations available to embellish your wrought iron fence.  We can help you design a customized wrought iron fence that is specially designed to enhance the beauty of your property.

Wrought iron fence can be powder coated or it can be primed and painted.  Utilizing vinyl or aluminum to enhance the beauty and durability of your wrought iron fence will help you create a maintenance free ornamental fence.  Whether your wrought iron fencing is enclosing your yard or all of your property,  A-1 Steel Fence Co. is the one place to go for your wrought iron fencing in Los Angeles and all Southern California.

No weld fence systems are available for those who prefer them.  These systems use a system of bolts and rivets. These pre-galvanized connectors are then powder coated.  Although these systems are more expensive than traditional wrought iron fencing, they do have a long life cycle.